The Beauty of Life:

24 Gifts and a Song 
A collection of 24 stories, one to represent each hour of the day, and a

Song

to celebrate the end of the day and the start of a new one.   Each story is about the beauty found in some of the gifts we all know we possess, but through complacency, don't really think about. Even though they have allowed us the opportunity to not only survive on this planet, but to thrive like no other species. Each story is written in such a way to reintroduce such gifts in a more tangible form, allowing the reader to relate to them and forever change the concept of what you think of their existence. Then, join me in celebrating with a five-minute song that takes you on a magical adventure through life that will keep your toes tapping and leave your heart full of appreciation. Sheet music is available for those who want to play the song on piano or guitar.  
The perfect book for you to read on your best days, your worst days and every day in between. Or to gift to anyone who can use a smile.  
E-book and print versions in English, Spanish and French-Canadian are available through

Amazon

and

Google Play

. Preview available at 

Google Books

.
Coloring Book Editions are available in all 3 languages

here

.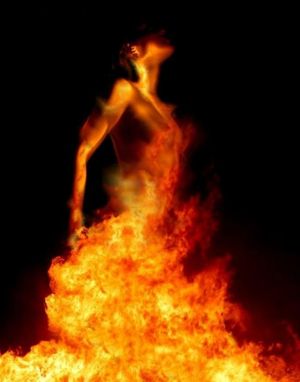 Excerpt from book
Hot Dancer 
She is a merciless dancer.
A tireless dancer.
A tease, if you will. 
Lighting the way through the darkness in a masquerade of hope. 
She dances for everyone to see her. To watch her. 
A provocative energy that finds her moving with the fluidity of water, but with a grace all her own. 
She does not care who watches her. She will dance regardless. 
She is Sexy. Dangerous. Rebellious. Beautiful. Hot. 
Her heavy perfume, mingled with her playful moves,
hypnotize us in a game she wants to play with Safety and Sin.
Life and Death. 
And just when we think her song is over, we yell "Encore!" and fuel her ego for another go. 
Her good nature crackles to life, and so she will oblige. 
But when angered, she dances a sensuously passionate Tango that burns fierce.
Every turn. Every twirl, fuelled by the winds of her devotion to dance. 
Telling a romantic song of despair.
So wild. So heartbreaking. 
And for those that get in her way, she will kiss you with the flames of desire;
branding a memory into your soul that you will never forget. 
It is only with the cool splash of her sister's kisses where her passion to dance simmers,
she takes her final bow and falls asleep in her bed of ashes.
©2021
Elle Vance